Erasing city food deserts: A work in progress
Mayor Rahm Emanuel wants to get rid of so-called food deserts in Chicago by 2020. But he and the city have a long way to go before reaching that goal.
At least eight major food deserts exist throughout Chicago, affecting mostly middle to low-income, minority communities on the West and South Sides. Even with an increase in city-supported urban farms and affordable produce programs, South Side communities have the least options for fresh foods and supermarket alternatives.
The City of Chicago defines food deserts as census blocks located more than a mile from a retail food establishment licensee with a business location larger than 10,000 square feet. This does not include gas stations and fast food restaurants.
Some food deserts are shrinking. The city boasts reducing the number of low-income residents in food deserts by more than 20 percent, and adding grocery stores in or near food desert communities since 2011. At least two grocery-dry neighborhoods plan to have new grocery stores built within the next three years.
But other communities are caught in the middle of the often knotty and political urban development process. It could be years before those areas see new supermarkets.
Errors in city data
The City of Chicago makes grocery store license data public via its online data portal. But Chi-Town Review found the 2013 dataset to be incomplete.
The city says it uses the 2013 list of Chicago grocers to map Chicago food deserts. That list is missing at least a handful of grocery stores that have opened in Chicago since 2011. And at least one of these missing data points, a Cermak Produce in Bridgeport, affects food desert mapping, making it appear that the nearby area is a food desert when it's not.
A spokesperson for the Chicago Department of Planning and Development said the list is the most up-to-date version on file and that a new 2014 list is in the works.
Chi-Town Review updated copies of the data for this story, even though the handful of missing stores did not significantly alter other food deserts.
The map
The map to the right outlines Chicago food deserts using the city's definition. It plots the city's list of grocery stores 10,000 square feet or larger, and outlines areas outside the one-mile radii of those points
Red areas mark food deserts with the most impact on residents. Gray areas represent regions that are technically food deserts, but are either too small, non-residential, or high-earning to have a significant impact on residents.
Click on the map markers to take a closer look at how each food desert has affected the people who live there.
Garfield Park, Near West Side & North Lawndale
13-year battle for grocery store nears end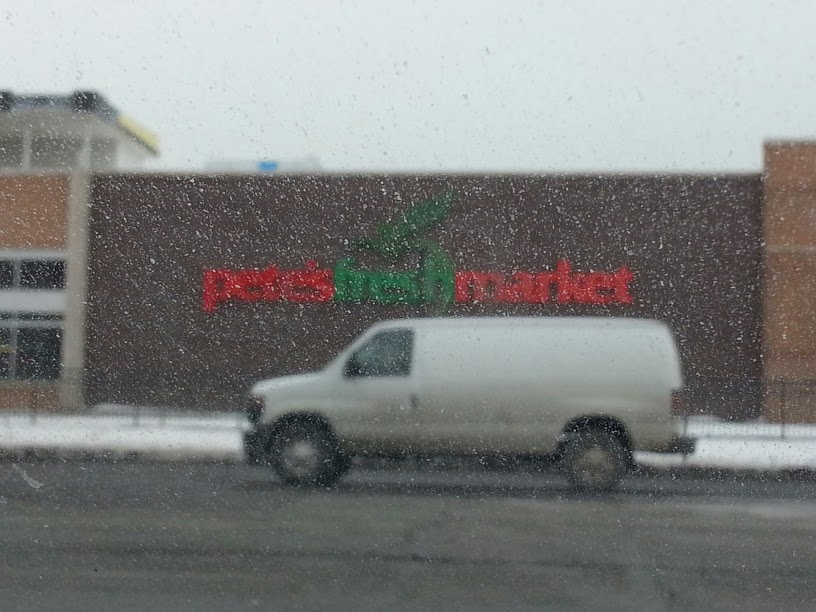 Pete's Fresh Market construction. Courtesy of Carlos Gamboa
The grand opening of the new Pete's Fresh Market on the corner of Madison and Western is long overdue for some residents in the Near West Side, Garfield Park and North Lawndale communities. Some of them have been living in a so-called food desert for years.
The store's development has been rocky and questionable.
After an eight-year debate over which grocery store would be the right fit for the area, the community accepted Pete's bid in 2009. But it took three more years for the company to get permits and the go-ahead from the city.
When construction finally began in September 2012, community members showed up to the construction site and refused to leave until Pete's offered them jobs. They said the company hired outside the community and overlooked resident workers.
Those demonstrations got out of hand, Pete's attorneys said, with protesters venturing onto the site and disrupting construction. Pete's eventually halted the project and hauled away its equipment.
This was distressing for residents like Carlos Gamboa, 29, who moved to the area in 2011.
"It was pretty much abandoned for a couple weeks," Gamboa said. "I thought the project was going to be way behind schedule."
Gamboa has followed the entire construction process, documenting it and posting daily updates to his Food Desert blog.
When Gamboa moved to the Near West Side he settled just outside the Garfield Park border, with a clear view of the grassy, untended lot that would become Pete's Fresh Market.
The nearest grocery store at the time was at least two miles away, Gamboa said. And not everyone was fortunate enough to own a car.
"I noticed a lot of people in this community walk or take public transportation," he said.
When Pete's broke ground Gamboa had a front row seat to an urban development project that would change lives and revitalize a community. He happened to have passion for urban development, having had studied the subject in college.
"I was lucky enough to follow this project," Gamboa said. "I think this was a once in a lifetime opportunity."
Pete's and job-seekers eventually came to an agreement about hiring more local workers, and the grocery store continued the build. The store is slated to open in the spring.
Without the grocer, local fresh food would be hard to come by.
"Most of the stores in food deserts are like corner stores with canned and processed foods," Gamboa said. "I think having accessibility to stores with fresh food gives people healthier options to eat."
Pete's will nearly eliminate the food desert in the Near West Side and Garfield Park neighborhoods, reducing it to just the North Lawndale community–one of Mayor Rahm Emanuel's targeted food deserts.
Read more about the Near West Side's fight to find a grocery store at the Chicago Journal.
Bronzeville
Residents petition supermarket to build in Bronzeville
Mariano's grocery stores are spreading like wildfire in Chicago. But South Side residents, particularly those living in food deserts, have yet to feel the heat.
The upscale grocery chain has 25 Chicagoland locations, including 11 former Dominick's stores its parent company Roundy's acquired when Chicago Dominick's locations shuttered in December. But only one Mariano's location, in Bridgeport, is farther south than the South Loop.
This troubles Bronzeville residents like business management consultant Erica Mosely, because five years ago she and the community were told Mariano's was eyballing their neighborhood.
"That store never came," Mosely said.
In 2009 Mariano's announced it had signed documents claiming a patch of land at 39th and State Street, but the deal reportedly floundered in the years to come.
"When it didn't come it was discouraging," Mosely said. "We have a city-identitified food desert."
A new grocery store could eliminate that desert.
The area's alderman, Pat Dowell (3rd), initially supported the idea, working with the company to get a store built on State Street. But in the end the Mariano's opened in the South Loop portion of her ward–no more than one mile away from the Trader Joe's, Whole Foods and two Jewel-Oscos already in the area.
"We felt it was a slap in the face," Mosely said. "They didn't even need the store."
Mosely wants to remind Mariano's about Bronzeville. She started a petition at MoveOn.org, pleading with Roundy's CEO Rob Mariano to open a location in Bronzeville by 2015.
That petition has more than 1,200 signatures as of February 2014. Mosely said she hopes the signatures show that people still want a store in Bronzeville.
But Mariano's hasn't forgotten about the South Side community, says James Hyland, VP of Roundy's corporate communications.
The company has set its sights on 39th and King Drive, seven blocks from the touted State Street location. That land is owned by the Chicago Housing Authority.
"We continue to meet with the City of Chicago, ward representatives and the CHA in regard to this location," Hyland said in an email. "All parties are actively involved in discussions but it would be premature to establish a timeframe at this juncture."
A Walmart Supercenter could also appear at the State Street location, but details haven't been confirmed.
Until then Mosely plans to follow up with Mariano's. She said she will print the online petition and send it to contacts she's already made at Roundy's.
"Let's not let them off the hook," Mosely said. "You need to keep your sight on the South Side."
Englewood
When high-end meets low-income
Mayor Rahm Emanuel spent more than a year "wooing" organic-heavy Whole Foods Market, hoping to convince the high-end grocer to open a store in Englewood, he said at a press conference.
He was successful.
Englewood stands out for its crime and poverty rates. The median household income is roughly $19,700, and 45 percent of its residents live below the poverty line. Part of the South Side neighborhood is also a food desert.
But the desert should shrink significantly in 2016, when Whole Foods says it will open an 18,000-square-foot store at 63rd and Halsted, across the street from Kennedy-King College and its celebrated culinary arts program.
The store will technically be located outside of the Englewood desert and two blocks west of an Aldi store. But the mayor told reporters he believes the store will be a welcomed addition to Englewood, and a step forward in completely eliminating Chicago food deserts by 2020.
Residents are hopeful.
Far South Side
Touted fresh foods initiatives still underserve South Side
The far South Side–the most palpable of the city's food deserts–includes the Roseland and West Pullman communities, mostly serving low-income, African-American residents. Across Lake Calumet are supermarket-less parts of South Deering and Hegewisch.
This has made the area a target for the city and activists looking to battle food deserts. Mayor Rahm Emanuel touts produce programs like farmers' markets, urban farms and produce carts, but those efforts are still unevenly dispersed across Chicago, favoring the North Side–the farther south, the fewer the options.
Map the city's farmers' markets, produce carts and urban farms by clicking the buttons below.
Emanuel's efforts to reduce South Side food deserts have shown some success.
A new Walmart Supercenter near the Bishop Ford Freeway infiltrated part of the desert in September 2013, but nearly half of its one mile radius covers a golf center and Lake Calumet. The other half stretches into Pullman and some of Roseland.
South Deering and Hegewisch
Neither South Deering nor Hegewisch has a large grocery store, farmers' market or produce cart.
For South Deering, when the once booming steel industry dwindled, so did commerce and the community's appeal to vendors like grocery stores, Neil Bosanko, executive director of the South Chicago Chamber of Commerce, told the Chicago Tribune in 2009.
Meanwhile the farthest food desert community, in Hegewisch , with a heavy Hispanic population, relies on small, independent grocery stores scattered about the area.
Those stores and the Walmart Supercenter will have to do for the South Side neighborhoods.
For now, the communities only add to the massive food desert covering the far South Side.
Beverly
Median Income: $83,092
Below Poverty: 4%
Source: Rob Paral "Chicago Census Data"
Ashburn, West Lawn & Chicago Lawn
'Fresh' hiatus
The West Lawn, Chicago Lawn and Ashburn neighborhoods, like several others in the city, don't have large grocery chains or wide options for fresh organic produce. This scenario prompted a group of local activists to start Fresh Moves, a mobile market that retrofits old CTA buses to deliver fresh fruit and vegetables to targeted West and South Side neighborhoods.
It started with one bus serving the West Side and eventually became two buses to include parts of the South Side.
The nearest stop to the West Lawn community was three miles away in the Gresham neighborhood.
The group hoped to expand, but finding a sustainable model to keep the business moving has been a challenge. The organization halted services in the fall of 2013 after funding ran out, the Chicago Tribune reports.
Fresh Moves' Steve Casey said the program will return.
"We hope to be back up and running in mid spring going forward," Casey told Chi-Town Review.
Portage Park
Median Income: $52,356
Below Poverty: 15%
Source: Rob Paral "Chicago Census Data"
Garfield Ridge
Median Income: $61,206
Below Poverty: 9%
Source: Rob Paral "Chicago Census Data"
Dunning
Median Income: $61,584
Below Poverty: 8%
Source: Rob Paral "Chicago Census Data"
West Ridge
Newly vacant Dominick's makes quality food more scarce
UPDATE: Jewel-Osco announced March 6, 2014 it bought the former Dominick's location at 1763 W. Howard St.
ORIGINAL: Small "corner stores" and lesser-known markets can be found throughout West Ridge's food desert, but larger supermarket chains are scarce.
When Safeway, the owner of Dominick's grocery stores, announced that it would shutter all Chicago locations, communities wondered what new grocery chain their local Dominick's would become.
Nearly all of those stores have been sold, mostly to Jewel-Osco and Mariano's Fresh Market.
But the former Dominick's at 1763 W. Howard St. remains unsold, leaving the West Ridge residents who are living in the nearby food desert with one less grocery store to depend on.
Dominick's was the more well-known supermarket in the area. Without the Safeway grocer, the area's options include corner stores and lesser-knowns like Supermercado Chapala and Morse Fresh Market.
Chicago Sun-Times food editor Sue Ontiveros wrote about the lack of options in the area without the Dominick's.
"There are smaller markets, but none with the breadth of Dominick's offerings," Ontiveros wrote. "What are the residents in this densely populated section of the city going to do?"
Below is list of former Dominick's locations and their new buyers